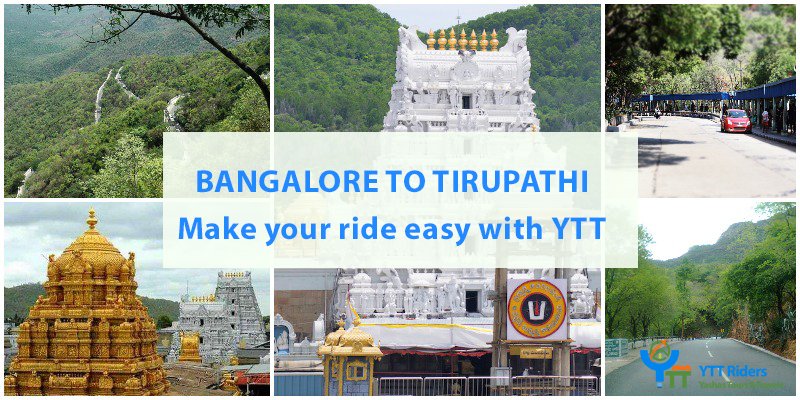 Cars From Bangalore To Tirupati
Book cabs from Bangalore to Tirupathi at YTT which provides amazing offers for your bookings. And a place like Tirupathi, where the mind-blowing ancient artworks are beautifully crafted on the walls of the temples. Spectators can bless their eyes with such views.
Along with it has the famous Vivekananda swami temple which is one of the richest pilgrimage centers in the world and also there are many more Hindu shrines that can enlighten one's feeling. There are many more similar places where one can find peace and relish oneself with such great offerings.
Your Safety, Our Responsibility
The place is extremely safe for the tourists and the food facilities are awesome one can easily find accommodation with cheap rates and convenient for themselves.
Every person wants to get the best at a very low cost but it is not possible most of the time. But, this dream becomes possible with YTT cabs. It carries all its customers with safety and responsibility.
Live While You Roam
The total distance by road from Bangalore to Tirupati is 250kms. And with YTT car bookings one can easily get access to tickets with amazing discounts and deals. So it will be easy and safe for the tourist to roam around. The people around the place are also very helpful who can guide the tourists.
The core of attraction at Tirupati is Sri Padmavati Amravati temple, Sri kapliswaraswany temple, Sri Kalahari temple, and along with it it also has the amazing national park like the Sri Vivekananda national park, deer park where one can get an amazing glance at the animals who are present there. One can also relish the beauty of nature waqt talakona waterfalls, IIT gardens, etc.
Accommodation Facilities
There are also facilities for 5-star hotels at Tirupathi like the par hotel, Maras Sarovar hotel, sab residency, etc. Which provides amazing rooms, pools, and delicious food facilities. Moreover, Bangalore to Tirupati with YTT booking on a car has awesome planning to spent your weekends to a different land and to enjoy an altered ambiance.
Tirupathi has one of the best hotels to live in without any tension for travel as YTT cabs are there to take care of that. If you ever feel burdened by extra work then just book a cab from Bangalore to Tirupathi with the help of YTT cabs. That place has lots to offer to people of every age and class. On leave from work and enjoyment with your family can help you regain your working capacity and refresh you as well.