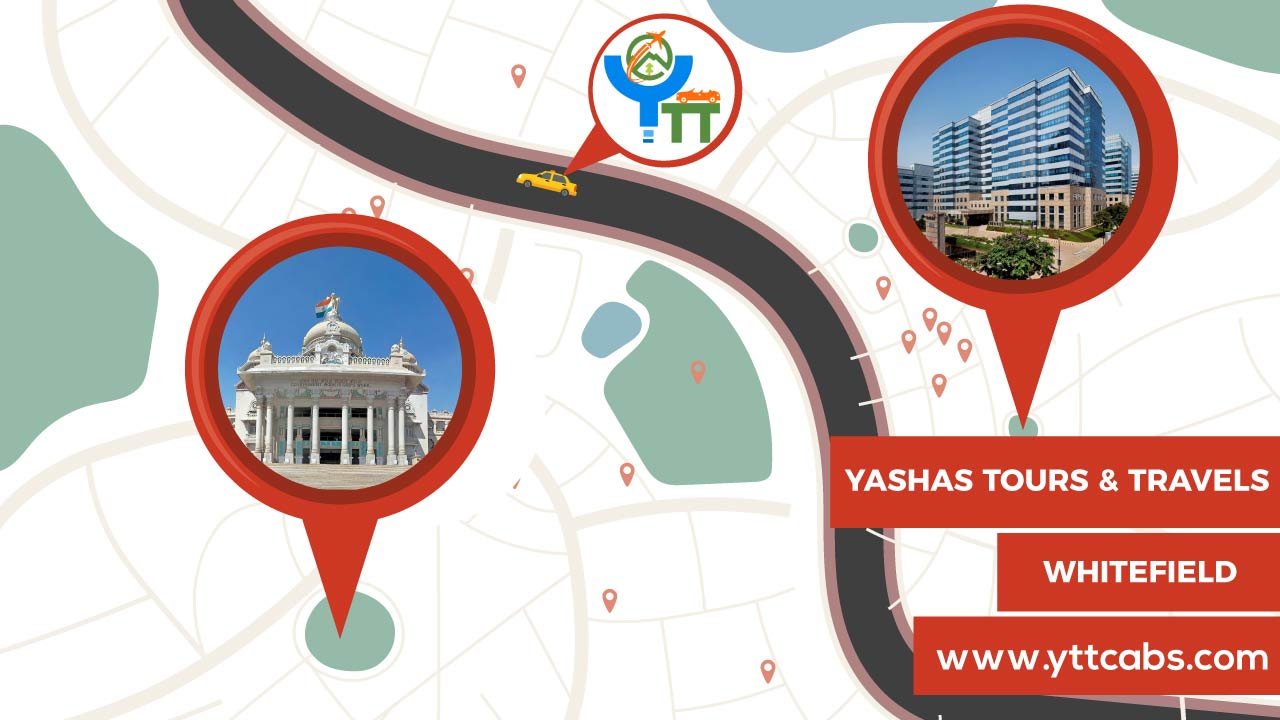 Explore Whitefield with Ytt Cab Service
We are Ytt cab rentals, always providing our valued customers a flexible and secure car service to reach the destination. People still love to explore new places, and that is the reason, Ytt has something new to look for. No matter where you go, we have got a cab ready for you. .
There are various places to visit in Bangalore, which makes this city a popular one in Southern India, and Whitefield is one of them. Despite the traffic, this area can get crazier rather than other parts of the city. Whitefield is famous and well-known as the IT hub of India. Besides the tech parks, here you will find top-rated hotels (such as - Zuri, Marriott, Taj Vivanta, etc.), shopping malls (Forum, Phoenix Market City, Inorbit), theatres, museums (Sara Arakkal Indian art gallery), art galleries (CounterCulture), hospitals, and schools. You would love to visit this place once. Rather than these attractions, this place connects two significant roads Whitefield Road via Mahadevapura and Varthur Road via Marathahalli. This place has one railway station also
If you are staying in Bangalore, this is a must-visit place. To make your ride smooth, Ytt is always ready with their Cheap Cab Service in bangalore with us, you will get the best amenities at an unbeatable price. Our professional riders will give you a safe journey, so you can travel with your kids without taking any tension. You can book us on hourly basis also to save your budget. So enjoy a perfect trip to Whitefield and spend quality time with your friends and family members by choosing us! Yttcabs is Airport Pickup and Drop Services, Local Hourly Car Rentals, Outstation Car Rentals, One Way or Shot Drop or Pickup Services in Cheap Rates at Bangalore.
Why Choose Ytt Cab Service Online?
Bangalore traffic is an everyday issue for all citizens. Instead of driving, seat back and book us to reach the location comfortably. Time is an essential factor for all of us. And we take care of that. By booking us, we assure you that you will reach the destination on time without being irritated or exhausted. We provide all type of luxury, comfy seating areas, spacious cars, cleanliness, and excellent service for our customers.
Book Ytt taxi in Bangalore, and we will make sure that you get picked up from any part of the city and drop you at Whitefield within the time zone. By selecting us, you will get a guaranteed premium and luxury trip at the lowest price compared to other Online Car Booking Services in Bangalore. We have an excellent cab monitoring system where you can track the route, and easy map navigation will help you to explore the things and places in Whitefield.
Whether you are looking for a local ride, Outstation, or One-way pick up and drop, select your trip and vehicle type. Book your cab, and within a second you will get all your ride information. Take your trip and enjoy a hassle-free journey all over the city. Pay securely with our safe payment options. .
From the time you book us to the time you go home, we will take care of each and everything. We will not give you a single chance to complain against us because we are always working hard to keep our customers happy! If you need any help while booking the cab or while traveling, our 24*7 customer service is always ready to assist you. We promise you a quality service that will give you a fantastic travel experience to remember lifelong.
We are a 24/7 Airport Pick-up and Drop Service and offer our customers an easy and convenient booking. All these incredible and efficient factors made us to be a leading airport taxi service provider in Bangalore. Take a ride with us and see the difference. If you are looking for more details or want to know the fare details, give us a call on 9972555713 or drop a mail at customercare@yttcabs.com. Our expert team will get back to you as soon as possible!.